HOMEOWNER'S ASSOCIATION
The Sunrise Sky Park Homeowner's Association is an Idaho registered non-profit corporation. As a Lot owner you become a member of the Association and thereby have ownership of the Common Areas. The Common Areas include all the roads, the paved and pilot activated lighted runway, the concrete boat ramp, the picnic area and other designated lots together with their improvements. Our Association is controlled by moderate Protective Covenants in order to protect and maintain property values and quality of our life.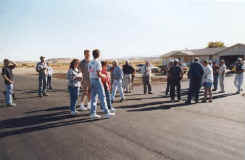 Current yearly maintenance dues for the Association are only $788. This provides for the maintenance of our Common Area and liability insurance policies. New members are charged a one time assessment of $788 for a membership fee. Capital improvements to the Common Area require approval from 2/3 of the voting membership.

One of the primary goals of the Association is to build a strong community not only within the Skypark but also with our adjoining neighbors.

Airport and HOA Contact Information

Want to review our Covenants?
Sunrise Skypark Declaration of Protective Covenants, Conditions and Restrictions


Can't read .pdf files? Click here to download a copy of Adobe Acrobat Reader.